Zoom Teeth Whitening System
Zoom is a favored professional tooth whitening action, which means it is done in-office by a certified dentist. This chairside treatment can whiten teeth up to eight shades post one or two sittings. It is also FDA-permitted and takes one hour to complete.
Zoom is a bleaching method extensively used all over the country and around the world to lighten the discoloration of enamel and dentin. Tooth staining may happen because of drinking coffee, tea, cola, and red wine; or even from smoking. Stain and darkening of your teeth could be because of age as well. The Zoom in-office tooth whitening process uses the Zoom Advanced Power Chairside Lamp. This quickens the bleaching process.
Zoom Teeth Whitening: What Is it?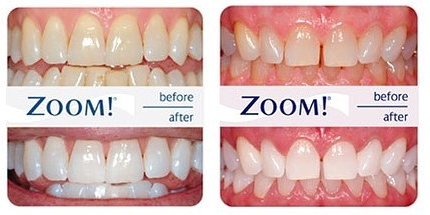 The Zoom whitening system is a simple treatment opportunity that takes anywhere between 45 minutes to an hour considering the condition of the patient. In most cases, discomfort is very negligible, but you might feel minor temporary side effects such as tooth sensitivity. For that reason, your dentist should carry out an introductory dental exam or cleaning prior to beginning the process. Accordingly, they can eliminate any plaque or tartar and detect any possible dental issues that could compromise the results of the procedure in advance.
The Benefits of Zoom Whitening: Toluca Lake Dentist
Fast and Easy Process
Harmless and Trouble-free
High-Quality Outcomes
Negligible Side Effects
Zoom Teeth Whitening System
Once the primary dental assessment or cleaning is done, your dentist can start the Zoom whitening process. The initial step involves applying a shielding gel onto the areas surrounding your teeth. This is to avoid the Zoom teeth whitening gel from coming into direct connection with other parts of your mouth. The high concentration of hydrogen peroxides in the Zoom teeth whitening gel could damage by burning the inside of your mouths and lips.
Hence it needs to be handled correctly which is why it can only be applied directly to the teeth by an experienced dentist. Once the gel is applied, the dentist will point a specific light that triggers the whitening agents in the gel directly at each tooth. The active ingredients in the gel work to infuse the surface enamel of each tooth and eradicate tinges from within. This process is generally implemented in three 15-minute intermissions depending on the patient's uneasiness. Results differ depending on the individual and their capability to survive the interval of the process. However, most patients have been informed being pleased with the outcomes.
Aftercare: Maintaining Whitening Effects
To help preserve the whitening effects of your treatment, our Dentist Toluca Lake may recommend you to sidestep certain foods and beverages or have them in moderation to evade discoloration of your teeth. This consists of tea, coffee, red wine, cola, etc.
Besides, tobacco products will tinge teeth, even after whitening treatments. Intrinsically, your dentist will advise you to avoid using them. Upholding an apposite oral hygiene schedule to avoid stains from reforming is exceedingly essential. It is important to visit your dentist recurrently for scheduled teeth cleanings.
Toothpaste containing whitening agents also may be recommended by your dentist to continue the results of the process.
Zoom Teeth Whitening Toluca Lake
Zoom teeth whitening is a harmless and effective whitening treatment. At My Dentist, Toluca Lake is a dental clinic in Toluca Lake. We've been a reputed clinic for years, offering a large variety of dental services to people. Our services range from regular dental cleanings and inspections to emergency dental care for adults and children besides performing root canals, Invisalign, crowns, and much more. Contact us today at 818-483-9077 to schedule an appointment with Dr. Sahakyan.