Front Tooth Damage? Consider Cosmetic Dentistry
The condition of your two front teeth, to put it in simple words, can have an immense impact on the general look of your smile. Our world-class dentist Dr. Sahakyan, recurrently executes tailored cosmetic dentistry procedures intended at fixing and improving the look of the two front teeth. Some of the most familiar issues patients have about their front teeth are chips and cracks. Front teeth are particularly inclined to damage; nevertheless, many effective treatments can deliver repairs that blend stunningly and look unbelievably natural.
Irrespective of the issues you are going through with your two front teeth, Dr. Sahakyan, can possibly provide you with the developments you are on the hunt for using custom cosmetic bonding, porcelain crowns, or porcelain veneers. Each of these choices is color-matched to your neighboring teeth, along with custom-designed and crafted to generate perfect aesthetics. However, if you have outdated dental work on your front teeth, Dr. Sahakyan also has wide-ranging proficiency in upgrading old, injured, ill-fitting, and/or stained bonding, veneers, and crowns.
Consider Cosmetic Dentistry
Cosmetic dentistry is conclusively a focus for front tooth damage. Your front teeth give a first impression image to all. Since the beginning of cosmetic dentistry, people that have experienced front tooth injury are relieved due to cosmetic dentistry. However, cracked front teeth, tooth deterioration, dental contamination, exposed roots, gum recession, and teeth grinding are unattractive at best. Dental veneers, bonding, and composite or porcelain dental fillings are the best solutions if you've suffered from front tooth damage.
Types of Cosmetic Dentistry: Toluca Lake Dentist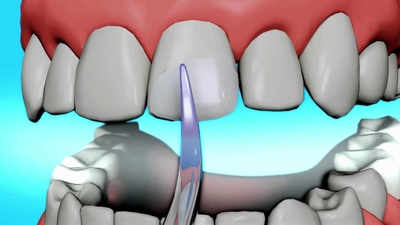 Dental bonding eases tooth sensitivity that is related to exposed roots and gum recession. Bonding too fixes small cracks and chips in teeth. The bonding method includes the application of a bonding liquefying substance to the affected tooth. The process is not uncomfortable and the outcomes are long-lasting.
Composite or Porcelain Dental Fillings
Composite dental fillings are used by cosmetic dentists for front tooth deterioration. This is because composite dental fillings closely mimic the look of a natural tooth.
Dental Veneers

Dental veneers let for injured teeth to be secured. It is suitable for larger fractured teeth. Dental veneers may also be fitting for irregular teeth which may result from teeth grinding. People that teeth grinding may be eligible for dental veneers following treatment for the state.
Bonded Porcelain Dental Crowns
Bonded porcelain dental crowns are more artistically attractive than porcelain fused to metal dental crowns.
Cosmetic dentistry possibilities for front teeth were not readily available a few years back. Nowadays, you have numerous types of cosmetic dentistry procedures to select from for front tooth damage. Your dentist will choose the right cosmetic dentistry practice based on the sternness of your condition. It's inspiring to know that there are enhanced methods available for front tooth impairment. Dental bonding, veneers, composite and porcelain fillings, besides bonded porcelain crowns, provide toughness and pleasing aesthetics for front tooth damage.
Cosmetic Dentistry Toluca Lake
The correct treatment option for you will depend on the severity of your tooth damage, your personal preferences, and of course budget. So, at My Dentist Toluca Lake, Dr. Sahakyan will take the time to discuss the benefits of the approach so that you can make the most informed decision about your smile. Personally, our experienced Dentist Toluca Lake prefers to place high-quality porcelain veneers as they steadily generate results that are natural-looking, enduring, and stain-free.
If you want to repair your front teeth with beautiful results, contact our clinic to connect with a knowledgeable member of our team who can help you schedule a consultation. call at 818-483-9077.